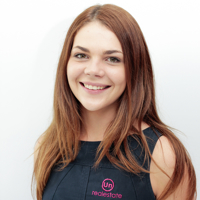 Sheldon Ryan
Property Management
Getting to know
Sheldon Ryan
Sheldon qualifies as a true local, she was born at the old Coffs hospital on Victoria Street and raised at 'sunny Sawtell', one of the Coffs Coast's most beautiful places.

Sheldon's family have been in the area a long time and they're connected to some well-known businesses: her grandfather is the 'Tom,' from Tom Jung Quarries and her surname is linked to local bus company, Ryan's. Both her parents went to school here and Sheldon followed in their footsteps as a student at Toormina High. With such great local knowledge, it's not surprising Sheldon has a list of favourite headlands and trails for weekend bushwalking trips.

Sheldon is often the first one people speak to when they phone the office or walk through the door and she's known for her friendly and happy personality (along with her prowess with technology!) Sheldon started her working life with a traineeship in 2013 and after ploughing through her Certificate III in Business Administration, she also finished her Certificate IV Business in 2014. After finishing both traineeships she was nominated for Trainee of the Year in 2015 and has just completed her Certificate of Registration in 2016.