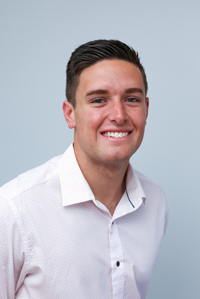 Getting to know
Josh Barden
Many people far older than Josh haven't had the life experiences that he has already in his life. After completing his HSC locally, he then went to live in the UK for 12 months, working in the tourism and hospitality industries and travelling throughout Europe which has certainly given him perspective, and a an appreciation for our lovely part of the world.
Working, from an early age in the then family owned Coffs Tourism icon, "The Butterfly House" Josh quickly learned exceptional communication skills, and a client first mentality is the secret to success.
Although Josh has only recently completed his Certificate of Registration this year in order to begin in the real estate industry, he prides himself on his presentation, ability to listen and always wear a friendly smile. When you're dealing with Josh you are guaranteed to work with someone who is extremely proud and passionate about the local area and also someone who is more than willing to go out of his way to cater to your needs.

Josh doesn't just live in the local community, he immerses himself in it. He presently coaches Junior Representative football (soccer) teams, and is passionate about our area. When not working in his chosen Real Estate career, you may find him either coaching or playing football, sipping coffee in one of our many fine café's or jogging along the beach. Oh, we forgot to mention he also runs marathons, that's the kind of commitment you want working for you.

When working with Josh you not only get the commitment and enthusiasm of a young man who is passionate about getting his clients the best result, but the experience and backing of the award winning team at Unrealestate.

Give Josh a ring and put him to the test, get to see what the new face of real estate looks like.