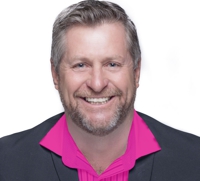 Chris Hines
Managing Director
Getting to know
Chris Hines
A positive attitude and ability to effectively communicate with people on all levels has enabled Chris to continue a successful career in real estate. A licensed Real Estate and Stock and Station Agent, Auctioneer, as well as a foundation member of the CPREA (Certified Practising Real Estate Agents) he has built a strong client base of vendors and buyers through his ability to make people feel at ease and confident with his abilities.

With a strong background in management and negotiation acquired during a lengthy Police career, in which he achieved numerous commendations and medals, including Commissioner Citation, Premiers Award, Regional Commendations as well as the Australian Royal Humane Societies Bronze Medal for Bravery. His career also included 10 years as an active Police Hostage Negotiator, both negotiating and leading teams of negotiators in high risk incidents. Chris brings all of his experience to bear when getting the best possible price for his vendors, whilst keeping purchasers equally happy. He firmly believes that the best negotiations are 'win, win'

A member of the Real Estate Institute of New South Wales, and Chairperson of the Coffs Harbour Branch of the REINSW, he firmly believes in the need for honesty and professionalism in Industry. He also maintains a strong commitment to the Coffs Coast, being a member of the Committee of management of the Coffs Harbour Chamber of Commerce and a Director of the Enterprise Training Company Pty Ltd. He is regularly sought by local media outlets to comment on property related matters.

His genuine and easy going nature, coupled with his knowledge of the industry and the region, will ensure that your real estate experience will be a stress free and enjoyable one.